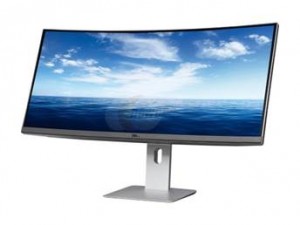 Ultrawide monitors have been reaching higher levels of popularity all the time as innovations in appearance and specs continue to be made. With 34" curved monitors hitting the scene, it's safe to say that two monitors were better than one – until now!
Gain Screen Space & Desk Space
At 34", you begin to gain more than enough space on your screen to work, as well as the resolution needed to fully take advantage of this space and achieve efficiency. This will allow you to maximize the space on your desk by eliminating multiple monitors as well.
Along with the fact that a single, ultrawide monitor will often give you more screen space than a dual (or multiple) monitor setup, it also offers a seamless experience – free of bezels interrupting windows and documents.
Improve Efficiency
With a multiple monitor setup, your graphics card is something to consider too. Your graphics card, -or perhaps cards- have to drive each monitor with appropriate refresh rates. With an ultrawide, however, you only have to worry about powering and connecting one – this also means less clutter caused by cables!
In the name of convenience, these monitors also tend to include every port and connector you'd ever need, as well as VESA-compatible mounting, auto-rotating and fully adjustable stands, and so much more.
Discover New Possibilities
It's obvious that gamers and movie fans alike will love the curved, full surround display and benefit from the lack of bezels in the way, and those focused on productivity will be amazed at the efficiency being offered from not having to continuously resize and rearrange applications.
Along with this, if you like your displays to be angled a little on either side of your desk, the curved display is naturally a huge benefit.
Dell, LG, Acer, and ASUS are all among companies who have begun offering ultrawide monitor options.
There's no denying that the innovation of ultrawide monitors can make work and play a whole new experience. To learn more about how the team here at QualityIP can help you make sure that experience is a good one, give us a call at (330) 931-4141, or send us an email: [email protected].