Don't be an April Fool on March 31. Make sure all your important business data is 100% protected.
World Backup Day is March 31, 2016.
On Aug. 3, 2012, Wired journalist Mat Honan's entire digital life was ruined. How? Hackers broke into Mat's iCloud account and deleted everything, wiping out his phone, computer and tablet. They obliterated his online life and every single piece of data.
"Had I been regularly backing up the data on my MacBook, I wouldn't have had to worry about losing more than a year's worth of photos, covering the entire lifespan of my daughter, or documents and e-mails that I had stored in no other location," Honan wrote at Wired.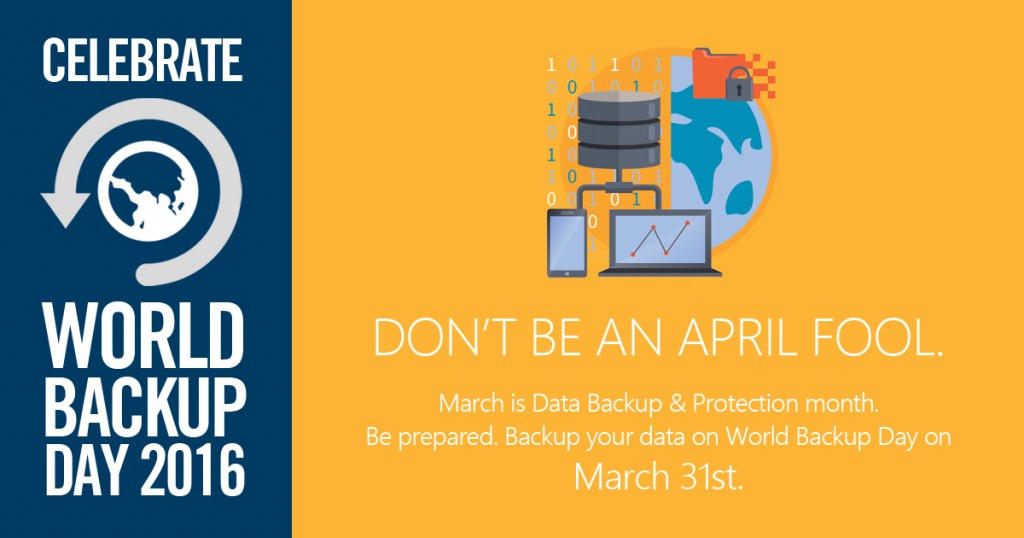 Honan is in good company, at least. He's far from the only person to fall victim to hackers who deleted data.
Even JPMorgan Chase — a bank that most customers reasonably expect to protect their data — has fallen victim to such an attack. In August 2014, hackers gained access to the bank's financial networks, altering and possibly deleting records, then using this access to jump to as many as six other banks.
What Are the Risks?
According to security experts, as many as 60 million computers will fail this year; 200,000 smartphones will be stolen. Those issues are reason enough to back up your data, but if you need another one, try hackers.
Cyberattacks are becoming more common. Ransomware attacks — a type of malware that restricts your access to your digital files until you pay the malware operators to release it — increased 165% in 2015. Ransomware attacks are a growing problem for businesses that don't regularly back up their data and test their backups.
Several businesses, large and small, have fallen victim to ransomware attacks in recent months. In February, Hollywood Presbyterian Medical Center in Los Angeles paid $17,000 to regain access to its patient records after they were hijacked and locked in a ransomware attack. Ottawa Hospital narrowly avoided the same fate, thanks only to IT staff who were quick on their feet.
But are you likely to fall victim to such an attack? Even if you're a savvy Internet user, it's more likely than you think. No business or organization is immune from becoming a target.
For example, this month alone, online ads at AOL, the New York Times, MSN and BBC recently exposed users of those websites to ransomware. One spam research group found that as many as 4 million emails containing malware may be sent out each week.
Even the Dickson County Sheriff's Office in Tennessee was hit by a ransomware attack last year — and because they didn't have useful, uncorrupted backups of their data, they had to pay $500 in bitcoin to regain access to 72,000 autopsies, witness statements, crime scene photos and more. Stranger yet, the sheriff's office didn't seem to be directly targeted, but simply a victim of circumstance, proving that anyone might find themselves in the same situation.
What would happen to your business if you lost everything — all of your customer records, financial information and employee files? What if your business went offline for 24, 48 or 72 hours? Up to 4 out of 5 customers have said they would shop elsewhere if their preferred vendors could not take care of them when they had an important order.
What You Can Do To Prevent Data Loss
If you've taken security measures to protect your data, that's an excellent first step. But these measures can only go so far. Even the best firewall protection may someday be hacked or compromised in other ways. Security measures can't protect against an unexpected system failure that erases your data. You need to go one step further, so you can be a success story instead of another example of what not to do.
One of these success stories is the Cloquet School District in Minnesota. Earlier this month, the district saw a ransomware attack that locked the data on several of their computers, and a $6,000 demand to release the information. However, the school district had backed up most of their data, and externally store all sensitive student and staff data. Instead of paying the ransom, the district's IT staff simply cleaned and restored the infected computers, a task that took a day. It was costly, but not nearly as costly as paying a ransom to regain data or losing it forever — and this way, the hackers don't win.
Another success story? A client recently shared with us that one of his own customers was the target of a ransomware attack. While it took 30 hours to restore all of the locked data and many staff members spent a day idle, IT staff was eventually able to return systems to their pre-ransom state.
The best way to protect yourself against a ransomware attack is to back up all of your data, so that in the case of an attack you can simply wipe your systems and restore them to their pre-malware state. It's also a good idea to store sensitive data — such as customer's personal information and financial data — in a separate system with limited Internet access, so that it is more difficult for hackers to access or destroy this vital information.
If you don't have a process for backing up and storing data, now is the time to develop one. March 31st is World Backup Day. Join us in our mission to ensure all businesses have proper backup strategies in place. Back up your data, and add your business to the list.
If you already back up your data, when was the last time you tested your data backups? If you can't answer that question,
Book your backup assessment.