Voice over IP, or VoIP telephone is a cost effective and efficient way to address business telephony needs. The technology is based off of a simple premise, instead of installing new telephone lines in the building, or using existing ones, instead push all of your voice, video, and teleconferencing activity through your internet connectivity.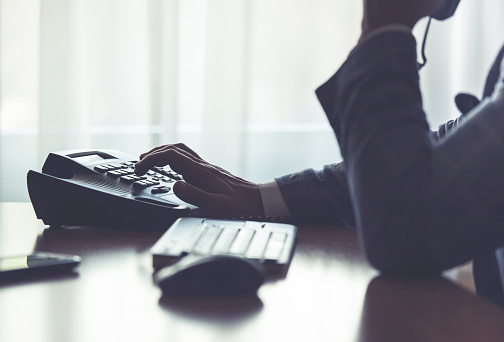 Minutes is the most expensive component of a traditional telephone bill, but VoIP changes all of this as it differs from a regular telephone service. VoIP treats your phone conversation as data as it passes through your IP network. Because broadband is so affordable and easily obtainable VoIP is especially appealing to businesses that are looking to more efficiently use their resources and better control operating costs.
How VoIP Positively Impacts Your Bottom Line
VoIP telephony is beneficial in reducing operating costs in a number of ways, including:
Eliminates any need for installing new phone lines in the future.

VoIP service providers provide equipment that hooks directly into your existing broadband connection, and services are offered at incredibly competitive rates compared to traditional telephone providers.

Services can be installed in the homes of telecommuters, enabling them to work remotely.

Users benefit from unlimited long-distance as phone traffic is conducted over the internet.

Phone services are handled by the existing IT department, minimizing costly downtime while waiting for telco service.
Other benefits of VoIP business phones include:
By operating through an encrypted VPN connection, VoIP phones can offer increased security.

VoIP software can be installed on mobile devices so employees are always connected to the businesses line, even when out of the office.

All of the convenient features found in traditional phone services, such as call forwarding, voice mail, and teleconferencing are also available with VoIP services, plus more.
How Does VoIP Work?
VoIP phone services work by breaking each employees voice stream into packets. The system compresses the packets, and sends them to their destination via the internet. Once received, the VoIP system decompresses the packets, arranges them in order, and reconfigures them into voice that the other party can hear. This is an entirely different process from establishing a consistent connection between two parties, which is what happens during a traditional telephone call.
The quality of the call depends on the speed of the connection, so it is crucial to ensure there is enough bandwidth. Major VoIP providers can provide guidance on the appropriate amount of bandwidth required to achieve the highest quality of call.
VoIP Service Offerings
There are currently three major players offering VoIP phone services to business. These are Skype, providing industry-leading services to businesses of any size, as well as private users, Vonage for Business, offering services for almost anybody at competitive prices, and Vonage, who is an industry leader in providing VoIP services to small and medium sized businesses.
Small Business Premium Unlimited is one of the service offerings from Vonage, and for about $50 monthly provides unlimited local and long-distance calling throughout Canada, the U.S, and Puerto Rico, in addition to landline phones in several European countries. This package also supports your Vonage number ringing up to 5 existing lines. Other features of this service plan include a dedicated fax line, voicemail, 500 minutes of outgoing calls, Caller ID, and the ability to take your Vonage adapter anywhere you go, and connect anywhere there is internet access. Services can be extended to a specific mobile line to further promote mobility, and managed with a useful app for Apple or Android smartphones.
Along with the SBPU plan offered by Vonage, they provide the Vonage Phone Adapter. The adapter allows you to use existing telephone lines through the Vonage VoIP System. Vonage phone systems range in price from $15 to $100+, but the savings from using the services more than make up for the investment in hardware.
While Vonage's phone systems were used to illustrate the benefits of migrating to a VoIP telephone services, and their services outlined are quite appealing, they are just one of several dependable provides and tier rates are by no means the lowest in the market. Always look into the services offered by the industry leaders, as well as smaller local providers before making your decision.
Yes I want to save money!
Contact QualityIP at (330) 931-4141 or [email protected] to learn more about how your business will benefit from migrating to VoIP telephone services.