Cybercrime: The Biggest Grinch of All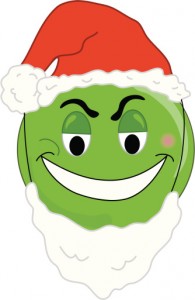 You might take a break during the holidays, but unfortunately, cybercriminals don't. This time of year brings more threats than most business owners are prepared to handle as cybercriminals are constantly on the lookout – launching themed attacks against unsuspecting victims. You're always ready to find the next best deal when shopping on the web, but lookout for these extremely common threats:
Holiday greetings: Cybercriminals know you're receiving tons of e-cards over the holidays, so they're likely to send out malware within e-cards.
Great deals and promos: Cybercriminals know you're looking for deals, so they'll send out emails with fake deals and promos that are riddled with viruses.
Phishing websites: Cybercriminals make phony websites disguised as common retailers to trick you into entering financial information.
There's one particularly sophisticated tactic some hackers have adopted, especially during the holidays. Once they've successfully installed malware onto your computer, they encrypt all of your files, then threaten to delete their files unless the victim agrees to pay a ransom to the hacker. This is known as ransomware, and it's on the rise.
The holidays are the best time to attack – you're relaxed and vulnerable, but don't let yourself become victim to cybercrime.
'Tis the season for attacks. Don't let yourself become victim to cybercrime. Here's a few tips to help you avoid getting hacked:
Enable alert features on your credit card: Take advantage of alert features that warn you of any suspicious activity. This lets you know when your debit and/or credit card is used.
Limit purchases to websites using secure HTTPS: If the website you're shopping on doesn't use HTTPS at the beginning of the address line, don't purchase anything.
Avoid clicking links within unsolicited emails: Never open links and/or attachments within emails. If the email appears to be from someone you know, verify before clicking any links or opening attachments.
Stay up-to-date with enterprise-grade security solutions: You need enterprise-grade security solutions, including anti-virus software, web content filtering, and firewalls for a multi-layered approach.
Discover what QualityIP will do to make sure you're prepared to fend off attacks during the holidays. Call (330) 931-4141 or email us at [email protected] for more information on our managed IT services wherein we handle all of your technology at a flat-rate monthly fee.