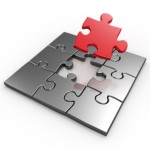 IT support isn't an option for anyone anymore. It's not just the Targets and Home Depots of the world that are vulnerable to cyberattacks. There were over 300 million new pieces of malware created in 2014, and 60% of attacks last year targeted small and medium-sized businesses (SMBs).
If you're hit, good luck, you'll need it.
Recovering from data loss costs an average of $150 per file lost, and thousands of files are usually compromised in a single attack. If you're running the numbers in your head and it seems impossible that you'd be able to recover from a six or (god forbid) seven-digit clean-up cost, unfortunately, your math checks out: 55% of SMBs are forced to close down for good within 6 months of an online security breach.
But maintaining an in-house IT department to protect against such attacks isn't a viable option for everyone. At the very least, it will take up a lot of resources that could be used to address other needs, and smaller organizations often just don't have the budget to add another member to their team, let alone a whole department.
Businesses of all size should look to managed services for an IT support option that's both affordable and effective.
Cutting Costs
Even a low-level IT worker makes an average salary of $50,000, and if you want someone with more expertise who can help you predict trends and achieve a competitive advantage over your competitors through technology, a CIO will command at least double what the average technician gets, $100,000+.
The fixed monthly rate offered by QualityIP provides you with access to an entire team of experienced IT professionals, and we're more affordable than hiring just one new employee of your own.
…Without Sacrificing Anything
There are exceptions to everything.
"You get know what you pay for."
Well, no, not necessary. To be fair, there is a lot of truth to this folksy saying: any accountant will tell you that it's near-impossible to make room in your budget without sacrificing something.
But MSPs are a rare exception: they cut costs and they're able to do remotely everything that an in-house IT department would do for you (network security, equipment maintenance, disaster recovery, cloud migration, VoIP migration, and even long-term strategy).
And if a MSP is close enough and they're willing to hop in the van and get to your office in a couple hours when a problem requires an on-site solution, there's no reason to even consider traditional in-house IT solution over managed services. No sacrifice required.
Managed services are more affordable than hiring just a single low-level full-time employee, and with QualityIP you'll get all the benefits you'd get with an entire in-house IT department.
Why do you need managed services… do you really need another reason?
Contact us by phone or email for details about our managed IT services.